Responsible Gambling
Punting has grown in Australia and across the world and you can bet on almost anything, anywhere and at anytime. It can be used for excitement when following racing or watching your favourite sporting events.
However, it is often abused as people begin to chase their losses, which can lead to a serious problem. At Before You Bet we condone responsible gambling which can be broken down into two different aspects - the individual gambler and a problem for the wider community.
Responsibly gambling individuals may gamble for their own entertainment, but are aware of the consequences and possibility of losing. They are in control of their gambling, it isn't a priority in their life and it doesn't cause them problems or harm. When this changes, however, a gambling problem may arise.
Responsible gambling for the wider community refers to the gambling providers, governments and sporting associations. They are required to generate awareness of the risks and dangers that can evolve when taking part in gambling. It is their responsibility to create environments that minimise problem gambling and listen to the community's concerns surrounding gambling.
If you find yourself in a situation where gambling is becoming a problem for you and it is affecting your every day life, Responsible Gambling has multiple different programs that will help you:
Many ways to get gambling help
The 'many ways to get help' program highlights that whilst there is various ways to bet and the ability to do it at anytime and anywhere, there is also just as many programs out there that can help you with your gambling problems.
Click to learn more about the responsible gambling 'many ways to get help' program
Fight for you
Fight for you'  is an award-winning program that follows the battle of four real gambling addicts over a 100-day period and their struggles. This is a very strong campaign as it allows the gambler to relate to the issues the addict is going through in their attempt to quit gambling and remove the problem from their life.
Click to learn more about the responsible gambling 'Fight for you' program 
Kidbet
Kidbet is a new revolutionary program that looks to educate the youth about the issues with gambling to prevent the problem before it begins. It discusses and highlights the affects that gambling advertisements can have on children and how it can impact them long term.
Click to learn more about the revolutionary responsible gambling 'Kidbet' program 
There are also people who you can talk to on the phone, online and in person.
The gamblers help hotline is available 24/7 and is free to call at 1800 858 858 and the gamblershelp.com.au is a great place to chat to someone online in a one-on-one conversation or join in on a group discussion.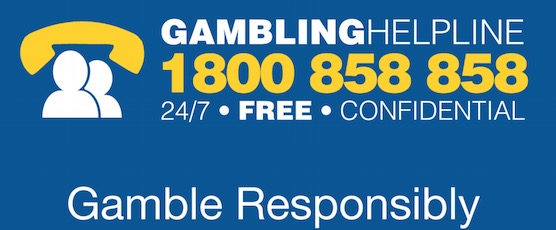 The website has a features that allow you to calculate how much money you are spending on gambling, asses the risks you are taking and sign up for self-help tools.
If you are concerned about a friend or loved one who may have a gambling problem, you can get help from the gamblinghelponline.org.au website through assistance of professionals or reading the informational and determining the signals of someone who has a problem.
Each year there is a Responsible Gambling Awareness Week held to raise the importance of gambling responsibly and the impact it can have on yourself and the people around you.
The week is in partnership with the foundation, local councils, gambler's help services, industry and community groups to bring the best possible awareness of gambling problems to the public.
Responsible Gambling Awareness Week will be held in 2016 throughout the 17th-23rd of October.
So, if you are going to place a bet, remember to always gamble responsibly and if it is becoming a negative in your life then seek the available help.