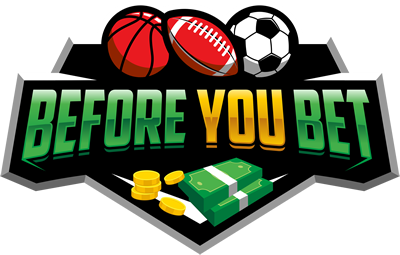 2017 Brownlow Predictions - Rolling Leaderboard
Tue, 29/08/2017 - 9:49am, admin

The 2017 AFL season has begun and that means it's time to once again start providing our 2017 Brownlow Medal vote predictions and rolling leaderboard. Our 2016 Brownlow predictions was quite successful, correctly predicting the winner and much of the Top 10, while also allowing our readers to use the week-by-week Brownlow predictions to place bets on exotic markets like head-to-heads and most team votes.
The race for the 2017 Brownlow Medal is looking set to be a cracker with superstars solifying themselves as the cornerstone of the comp, some key players returning from injury and some future stars set to take it to the next level.
As in past years, our AFL betting tips specialist @AFLBYB will be offering his Brownlow votes for each and every round of the 2017 AFL season with every vote published weekly here on Before You Bet - usually on a Monday. This is done through watching the games, analysing the stats and taking into account other outlets that give vote predictions such as in the media, the newspaper and TV show player of the year awards.
You will notice, however, that our Brownlow vote predictions look a little different than the official voting system. This is because we give 6 votes per game, but where applicable the votes are split with the idea being that over the long term these split votes even out and we are then given a 'range' of votes to work with for the current season.
There will be situations when the voting is clear-cut and the usual 3-2-1 is awarded, but when two players have both starred in a game and can't be split, 2.5 votes will be given per player. In games with multiple players fighting for the 1 or 2 votes, there will be 0.5 or 1.5 votes given with the same thinking that 'sometimes' those players will be awarded 1 vote, 2 votes or none.
For example: Patrick Dangerfield and Joel Selwood both have 33 touches, kick a goal and generally have similar impact on the result of a game. It's too hard to read the umpires mind, but we can be certain that these two players will be claiming the 3 and 2 votes. To combat the fact we are sometimes going to get this wrong, both players receive 2.5 votes which gives them a range of 2-3 votes. At the end of the season players like this then have a minimum and maximum range and if everything goes well, should finish somewhere in that range.
You can find the Top 20 on our 2017 Brownlow Medal Predicted Leaderboard below, which will be updated every week. Below the leaderboard you can find links to our round-by-round vote predictions too see how our Brownlow votes have been awarded for every single game of the 2017 AFL season!
2017 Brownlow Medal Rolling Top 20 - Final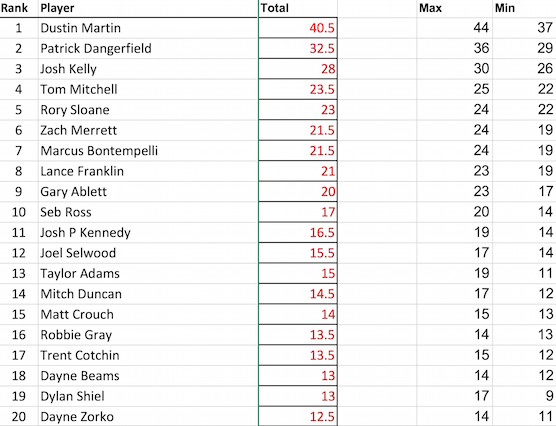 2017 Brownlow Vote Predictions: Round-by-Round
Check out the links below to see how our Brownlow vote predictions were given for every round of the 2017 AFL season.
_ _ _
Betting on the 2017 Brownlow Medal
Plenty of the best Australian betting sites offer hundreds of Brownlow Medal betting markets - including Ladbrokes! If you don't have an account, click here to head to the site today and take advantage of a great 100% up to $500 Sign-Up Bonus! Any first bet up to $500 will be matched with a 100% bonus, so if you want a $100 bonus, just make a first bet of $100! Be sure to check terms and conditions read our Ladbrokes Australia review page for more information!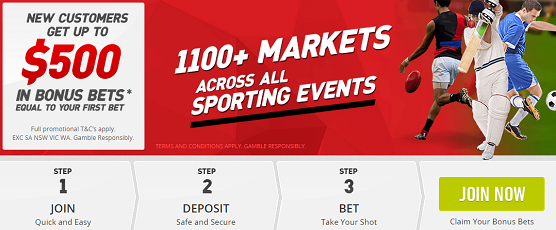 Make sure to read full terms and conditions of any betting promotion before placing any bets - bonuses may not be available to residents of all states.
_ _ _
Take note: Any of the tips in this article are simply the author's opinion, so bet at your own risk and always gamble responsibly. Also be sure to check out the Before You Bet Twitter Page for all our thoughts in the lead up to bets! Happy punting!