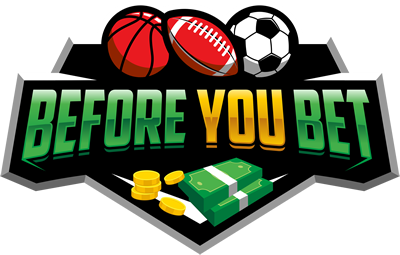 Pinnacle Review
Pinnacle is one of the largest online betting operators in the world and has been since they launched in 1998. Instead of offering glitzy sign-up bonuses and promotions, Pinnacle pride themselves on having the best odds in the world and often spruik the fact that the "juice" they are taking on their lines is far less than their competitors and therefore far more valuable for their customers. With clients from over 200 countries and a focus on allowing big punters to bet the best odds, Australian punters will not be disappointed taking their business to Pinnacle. Just make sure to read our Pinnacle review to find out more!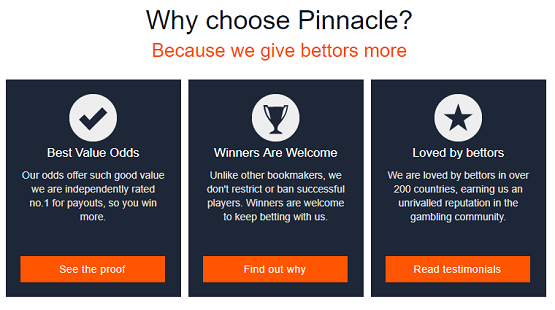 PINNACLE REVIEW
Like their no-thrills approach to marketing and advertising, Pinnacle.com offer a very simple betting interface. The home page shows a column on the righthand side of the page which displays the sporting markets on offer, including a 'popular markets' section. The remainder of the home page is made up of some blog content, along with a slider which shows some of the current featured sports or offers.
The main menu across the top of Pinnacle features navigation to an eSports section with Pinnacle the first site in the world to offer extensive markets on professional video gaming competitions. This section also features lots of content and eSports schedules that will be very interesting to both gaming fans and a great way for those new to the area.
The key difference punters will notice when they look at Pinncale compared to other bookmakers is that the majority of their promotional material places a focus on their great odds, as opposed to gimmick-style betting promotions. This sort of approach to their service certainly shows that Pinnacle are aiming their business at the serious punter, but beginner punters should understand how important getting the best odds are and Pinnacle are obviously trying to educate their customers of this fact.
Pinnacle also love to let their customers know that winners are welcome to bet at their site – which is a huge positive for anyone who has had their account limited or banned at another sportsbook simply for winning too much money.
Article: Five Reasons why you should be betting at Pinnacle
Pinnacle also love to compare themselves to betting exchanges and their big claim to fame is that their odds are even better than the exchanges once the commission that sites like Betfair are privy to are taken into account. In fact, quite often Pinnacle payouts can be up 2%-5% more than any site, including exchanges, and over the long run that can equate to thousands upon thousands of dollars into a punter's pockets. It can also mean the difference between a winning punter and a losing one.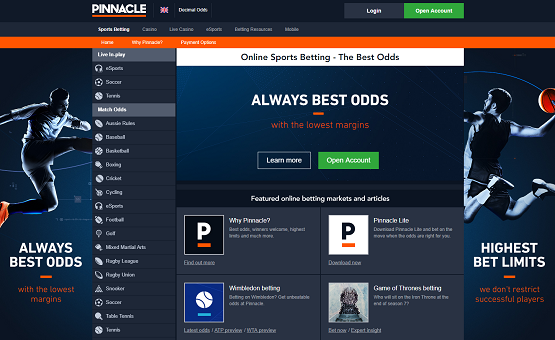 Because they are one of the biggest sports betting sites in the world it is no surprise that Pinnacle also offer some of the best customer service and payment processing in the world.
There is perhaps no other site that offers such an extensive list of deposit and withdrawal options with all the popular online wallets like Neteller, Skrill, Ukash offered alongside more obscure options. This is all in addition, of course, to credit card processing, POLi and more.
There is no doubt that choosing to bet at Pinnacle is a smart option, so click here to open a Pinnacle account and start being a more shrewd punter. Not only will you be betting at one of the biggest, safest and most trusted sites in the world, you will also be getting the best odds!

Editor's note: Take care when signing up to new sports betting agencies. Be sure to read all terms and conditions of any offers, deposit/withdrawal requirements and identification verification on each respective site, as some of the information on this page may be outdated. Before You Bet will do their best to keep this page up to date, but takes no responsibility for any information on this page being incorrect. 
Always remember to Gamble Responsibly.