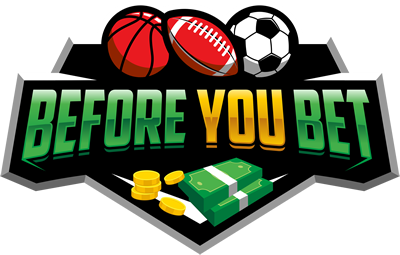 Flemington Racing Tips for Saturday, August 12th
Sat, 12/08/2017 - 7:41am, tim_tips

We're back at Headquarters once again this weekend as we continue to edge closer to the Spring Carnival. The track is currently rated a Good 3 and that's likely where it will stay, with the rail out 10m.
We have betting tips and comments for every race below.
Flemington Racing Tips for Saturday, August 12th
Race 1
Tough little race to start the day here. Landed with ALJAWZAA on top who comes up favourite at $3.80, but expect that to shorten as the stablemate MULK is likely going to be scratched. Aljawzaa won on debut in Adelaide, defeating It's A Myth and that form has stood up. Has had two runs back from a spell since that win, placing on both occasions. Last start she bumped into two very smart horses in I Did It Again and Bandipur. I think that race will turn out to be a hot formline going forward. She should really appreciate the step up to 1400m here and from barrier 3 she can box seat in a race with little pace. Looks well suited. CONFLUENCE is still a maiden but surely for not much longer. He ran 2nd last start behind Shamport, who is another horse that may be worth keeping an eye on heading towards the Spring. That was an enormous effort after sitting three-wide without cover for the entire race, on a day when you really needed cover due to the strong winds. He goes up 2kg in weight here but he should be thereabouts in the finish. NISTAAN finished 4th in the same race as Confluence last start and had no excuses not to finish closer so I'm prepared to take him on here. The value couild be SKY PUNCH at $10 coming off a win at Geelong, while the blowout is REVLIS who absolutely flew home to finish 2nd in a maiden at Mildura last start after only getting out at the 200m. Small win bet on Aljawzaa to start the day. Sky Punch if you're chasing value.
TIP: Aljawzaa
Race 2
Really not a very good betting race. Of the nine runners there are five or six that just can't win, and the tempo is the critical part of assessing the race I think. Lloyd Williams said last start that KILIMANJARO had no hope based on the very slow tempo of the race. With that in mind, if they crawl along here then surely Kilimanjaro will struggle to sprint with them. If that's the case, I think MASTER ZEPHYR and SUPER HAZE are the ones you want to be on, because they've got the better turn of foot. But, the key piece of information that's come out is the stable intend to ride Kilimanjaro forward, and I actually think they'll lead from barrier 1. And if he leads, it will be to make sure it is a proper staying test over 2500m and not a 600m sprint. He can dictate the race from the front, or outside the leader, and if he gets rolling at the 800m, he could catch Master Zephyr and Super Haze flat footed. So, given that they've made their intention clear to go forward, I'm less worried about the tempo because they'd be silly to go slowly when they said the lack of tempo brought him undone. Step up to 2500m a big plus, and third run back from a spell is exactly when Almandin started to hit his straps last prep. We may be getting a better price today because of the flop last start, and $3 is not a price I'm overly confident of taking, but I think it's too early to jump off him.
TIP: Kilimanjaro
Race 3
This was shaping up to be a great little race before the scratching of RICH LUCK. That leaves SOVEREIGN NATION as the $2.20 favourite, and despite him coming out of some strong form races, I think that's very short for a horse that has proven to be unreliable over the course of his career. The form behind Tshahitsi and Amovatio is very strong for a race with the lack of depth this one has, and I actually quite like Sovereign Nation as a horse, but I can't take $2.20 here. For that reason I'm left with MY PAISANN on top, which is another horse I have quite a bit of time for. Beat the likes of Revolving Door over 1400m at Caulfield two starts ago, and last start ran 3rd behind Nikitas and Revolving Door in a race which just didn't have the tempo it needed coming from last. The problem I envisage here is once again the lack of tempo on paper, but getting on to Flemington's big straight for the first time is a huge plus in my opinion. Big step up in class to Open company here, but willing to take the $5 available. TRIED AND TIRED really gets his chance to win here. He looks to logical leader and can get things as he likes out front. I'll be covering my bets with him at $10. TALLY can run a good race although 1400m might be a bit sharp. ONEROUS rates well but he enjoyed the run of the race last start from barrier 1, which he won't get today from barrier 8. Expect him to slide across to probably sit outside the leader. SKULDUGGERY the blowout.
TIP: My Paisann

Race 4
Good race. Three horses I really like here. JAMINZAH's last start win was impressive and previous to that he came out of a hot form race behind Lovani, which is a horse that really can be followed. Jaminzah beat a smart one in Rebellious Lord last start and takes the step up from BM70 to BM84 grade. Draws barrier 10 so will drift back but that's exactly what he did when winning last start so no issues there. His last two runs have been over the 1600m at Flemington so gets conditions to suit once again and with the 4kg drop in weight he rates highly here. However, at $3.90 I'll only be backing him to cover my other bets on these next two horses. The first of those is RIYADH, which is a horse that has been tremendously good to us in recent weeks, winning his past two races at $15 and $13 when we were on. There's no reason to jump off today because this horse is flying. Should be four from four this prep; his last two wins have come over the 1600m at Flemington so also gets conditions to suit. Won with 60kg last start so the 59kg here isn't much of a worry. Will get back from barrier 8 but with $7 on offer, I'm really happy to back him once more here. The second horse I want to be on is BLACK SHEEP. I was really, really keen on him two weeks ago at the Caulfield meeting that was abandoned when he was $16, and I wish he was lining up at Caulfield but that's not the case. He hasn't placed at either of his two runs at Flemington, but both were at the end of long preps so I'm willing to look past that. He was beaten 1.7L first up, which is very good considering his first up record. He's had six starts for one placing when first up, but importantly has finished in the top two in three out of his four starts when second up. So he really should show sharp improvement here. As I said, I was very keen two weeks ago when he drew barrier 3 at Caulfield, so with barrier 12 at Flemington I'm less enthused, but at $11 I have to have something on. This is a horse that can be followed going forward and if he runs well here, load up next start. PORTION CONTROL kept safe.
TIP: Riyadh / Black Sheep EW
Race 5
Really not a good betting race with SAMOVARE at $2.10, SWAMPLAND at $4.60 and O'RACHAEL at $4.80. In short, I think Samovare will win, but the odds are poison for a horse that went down over the same track and distance to Pedrena two months ago. The key difference today is that she carries 56.5kg and not 60kg, but still, $2.10 is awfully short. I think her biggest danger is SWAMPLAND who has won two in a row and the latest of which was impressive. She is going in the right direction and remains well drawn and well weighted. O'Rachael was a very good run last start and I was very keen on her two weeks ago at Caulfield when the races were abandoned, but that was over 1200m. She is a query here at 1400m and Waller has even said that. She has had a nice jumpout to keep her fit, but I'd much rather see her over 1200m than 1400m against two smart horses. GOLD FONTEIN could be the one at big odds to run a good race. She was beaten half-a-length first up and her second up record is very good, so despite the steep rise in grade she could go well with just 52.5kg on her back at $26. Samovare on top from Swampland.
TIP: Samovare
Race 6
Really, really deep race here. The favourite TAHI is unlikely to gain a run as the fourth emergency. I've narrowed this down to about three main hopes that I'll be backing at the prices, but the chances don't end there. INVICTUM DOMINA goes on top, and although I've backed her a few times this prep without much luck, she's going better than what she appears to be on paper. Her run last start was enormous. She led into the gale force wind and was pestered by the outsider of the field for the entire race, at one stage drawing about 5 lengths clear of the rest of the field. She did extremely well to hang on and run 4th, while the other horse finished near last. She faces a task getting across from the wide gate here, but if she manages to get there without using too much energy she'll be very tough to run down here. Don't drop off her yet. KNOWABLE is a horse I'll be having something on. He was well-backed first up over 1100m but that wasn't his go. His best distance is 1400m, which he gets here. Last prep he beat Widgee Turf over 1400m before running 3rd to Oak Door in Group 3 company. Draws well which is key for him, and Caserta takes 3kg off his back. The jockey booking is the one thing that puts me off, but at $10 I'm willing to take a chance. The last horse I'll be backing is SHOCKAHOLIC at $26. His first up and second up record is terrible - he's never placed from 10 starts when first or second up - but he's won two of his three races when third up and placed at the other. So he really does jump out of his skin third up. Blinkers go back on, up to 1400m, back onto a dry track and although he draws terribly in barrier 18, there should be enough speed on here to give him a chance. WAYANKA, I BOOGI, KILMACURRAGH and MR OPTIMISTIC others with chances.
TIP: Invictum Domina / Knowable & Shockaholic EW

Race 7
Another really tough race but plenty of good horses returning here. I've lent the way of horses that are better sprinters here, because there are a few that have the class edge but won't be fully wound up and will be looking for 1600m+ heading towards the Spring. Let's go through each runner briefly. HEY DOC is a gun, but he's one that won't be fully wound up and is definitely looking for 1400m-1600m. I doubt he will be winning this over 1200m down the straight with top weight first up from a spell. Happy to risk him today but keen to follow going forwards. GRANDE ROSSO has been the subject of huge support in the early markets, something like $15 into $6.50. My big concern with him is the fact he's first up from a 164 day spell, has had six starts first up and only placed twice, and has had six starts over 1200m and only placed twice. His trial was very good, but I'll be taking him on here as well. WE'VE GOT THIS is a straight track specialist and can win. First up for 273 days with just one public trial is a concern, but he's probably had a few private jumpouts at Cranbourne. He has the quality and the straight track record to win and should run a good race at each way odds. FLIPPANT is a horse I've never been able to catch. Third up here so has race fitness on a few of these, and is one from one at the track and distance. When the Snowdens travel horses they usually go close, but at the price I won't be backing her. SNITZSON is a horse I'm very keen to follow into the Spring but Hayes said he will need the run and the extra trip. CANNYESCENT is rock hard fit but this is his hardest test to date. YESTERDAY'S SONGS has the ability but is impossible to catch, RUETTIGER was horrible last start but gets a positive jockey change and a few gear changes so can bounce back. The Ability form from a few starts ago is very good so he's probably over the odds, while MANUEL also looks a decent each way bet and can run a big race. In the end though, I've settled on I AM A STAR each way. She's undefeated from three starts at the track and fits the mould of a horse who has a class edge and can sprint well enough over 1200m. At her last start she ran 3rd in a Group 1 over 1200m and first up last prep she ran 2nd in Group 2 company over 1100m. She carries plenty of weight here, but she should give us a good run for our money at $7.50.
TIP: I Am A Star EW
Race 8
CROCODILE ROCK goes on top here and this horse could be anything this Spring. First up over 2000m is a good sign to me, and Melham booked for the ride is another. He rode Aloft to victory last weekend and they've once again announced that this horse will go forward. I think that means they've got him fit enough to win this, and he probably only needs to be 80% fit to win this because I think he's that good. 60.5kg is a slight query first up over 2000m, but he carried 61kg first up last prep when 2nd over 1600m which is well short of his best. Pretty keen on him here and $3 is a good enough price for me. Hardest to beat could be Waller's horse ALWARD who didn't have much luck last start when 4th over 1800m at Sandown. He's never placed on Soft ground from five starts, and he's never missed a place on Good ground, so back on to a firm track here will see him improve sharply. Well drawn and only 54.5kg, third up from a spell should see him really competitive at a good each way price. One at huge odds is HARDINGTON and Oliver booked to ride is an eye-catcher. This horse has had two runs back from a spell, and I really think he could improve sharply here. He's never placed first up or second up from seven starts, but he placed at his only run when third up. Back in the UK, he won his final two races ove r2066m and 2098m so he's getting to a distance which he should be competitive at, and importantly, he also gets back onto a firm track here. He's a smokey at a big price. Crocodile Rock on top, cover bet on Alward, something small Hardington EW.
TIP: Crocodile Rock / Hardington EW (Best Value)
Race 9
Pretty keen on a couple here. ROCKET TOMMY is a horse that I really like and has been good to me previously and he looks well suited once again here. Comes into this first up from a spell and has won two of his three starts when fresh. Undefeated down the Flemington straight, has won six from nine at the distance, gets Damien Oliver on board and we know exactly what the tactic will be: go straight to the front and give them something to catch. $5.50 definitely a good enough price for me to have a crack at. A horse at bigger odds I'll also be backing is SEATTLE BOOM. First up this horse bolted in by over three lengths in Adelaide, and last start was backed into favourite at Caulfield on the day with very strong winds. He was four-wide without cover the trip and still managed to finish midfield, beaten 2.75L. Drops back to 1000m where he's never finished outside the top two, down to 54kg and I really think he can go well here at $14. RUNSON has had two starts at Flemington and has been unplaced on both occasions which is the concern for me, but he still holds claims. TRIBAL WISDOM the other to include.
TIP: Rocket Tommy (Best Bet) / Seattle Boom EW
---
The team at TopBetta have announced of their brand new Global Tote product, offering punters guaranteed better odds than provided on the regular totes. Don't be satisfied with poor odds! Check out the Global Tote which will give you the biggest bang for your buck when punting on the races this weekend!

If you don't have a Sportsbet account it's better late than never, so why not sign-up to Sportsbet today and get involved in a $501 bonus!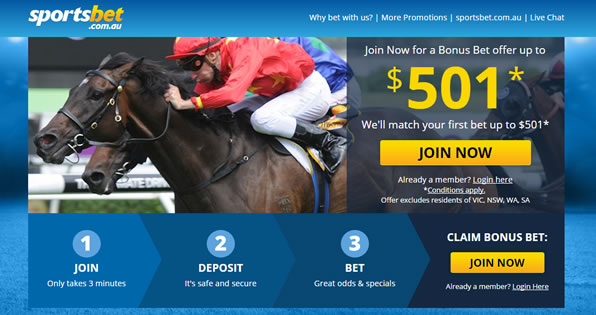 Ladbrokes are one of the better punting sites in Australia, so get an account today and also score a $500 sign-up bonus!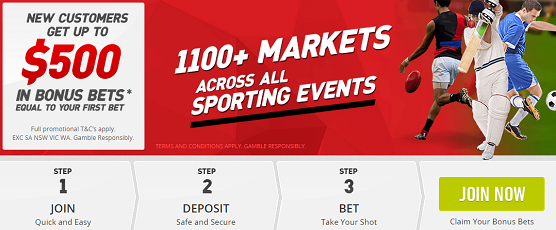 Make sure to read full terms and conditions of any betting promotion before placing any bets - bonuses may not be available to residents of all states.
Take note: Any of the tips in this article are simply the author's opinion, so bet at your own risk and always gamble responsibly. Also be sure to check out the Before You Bet Twitter Page for all our thoughts in the lead up to bets! Happy punting!