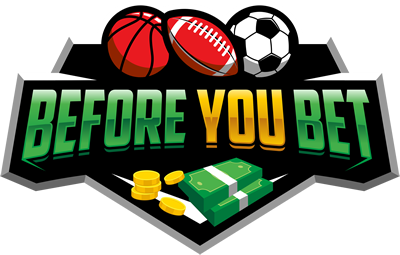 2017 AFL: Preliminary Finals Preview & Betting Tips
Tue, 19/09/2017 - 3:53pm, Drop Punta
Just four teams remain in contention as the 2017 AFL Finals are heading toward a conclusion! It's the Crows vs Cats on Friday night and the Tigers v Giants on Saturday! Who will make it through and fight it out for the premiership? Find out what we think with our 2017 AFL Preliminary Finals preview and betting tips!
2017 AFL Preliminary Finals Betting Tips
Adelaide Crows vs Geelong Cats (Friday, September 22nd at 7:20pm ACST)
2017 encounters: Crows (91) v Cats (70); Crows (74) v Cats (96)
Last 5: Crows 1, Cats 4
The Adelaide Crows host the Geelong Cats in a massive Friday night Preliminary Final. Will we see the Crows back in the Grand Final for the first time since their 1997-98 back-to-back success? Or will it be Geelong who once again finishes on the podium to solidify themselves as one of the most prosperous clubs of the modern era?
The Cats and Crows met twice in 2017 with the ledger squared at one a piece. In Round 18, the Crows managed a 21-point victory at Adelaide Oval, while in Round 11 the Cats won 10th in a row at Simonds Stadium against the Adelaide. Fortunately for the Crows, the prelim will be played in the comfort of their beloved Adelaide Oval.
The last time the two teams met Rory Sloane had an influential 28 touches and it will be interesting to see how the Cats handle him - will Scott Selwood go the hard tag? Sloane hasn't played since Round 23 and will be a welcomed return, but the Crouch brothers flourished in Week 1 of the finals and will provide their own challenge to the Cats. I think Sloane will get a hard tag considering the affect he had on the result in Round 18, which will mean Matt Crouch will have to continue his form if the Crows are to get on top of the midfield battle. Speaking of the midfield, will we see Patrick Dangerfield back in the middle or will he remain at full forward where he dominated against the Cats last week? I will be watching all the talk in the lead up to the game and trying to get some clues off the coaching staff, but at first glance I think the Cats will need all the help they can get against Adelaide and we will see Danger back playing a large majority on the ball.
Adelaide's preparation and the pre-finals bye will no doubt be talked about ad nauseam this week - as it has since last year's finals - and that's why I think it won't end up being a factor. The clubs are so aware of what effect playing two game in a month 'might' have that they will be doing everything they can to maintain that match hardness. Adelaide trained on the Gold Coast and have played some old fashioned scratch matches and will be ready for everything the Cats throw at them. I'm really looking forward to this and while I can see the Cats being competitive, the Crows have simply proven themselves to be the best team in the comp. Geelong proved the footy world wrong last week in what ended up being a coaching master class, but I think that will end up being the pinnacle of their 2017 AFL season. Getting on the Crows at the margin.
Tip: Adelaide by 1-39 Points (Under 39.5) - $2.10 at Sportsbet (2 units)

Richmond Tigers vs GWS Giants (Saturday, September 23rd at 4:45pm AEST)
2017 encounters: 2017 encounters: Tigers (64) v Giants (45); Tigers (75) v Giants (78)
Last 5: Tigers 3, Giants 2
Saturday afternoon's clash between the Tigers and Giants is going to be one of the more unique Preliminary Finals - after all, it's not often you will find a game with 90,000 fans there and literally 88,000 of them are barracking for one team. The Giants might not have the crowd support, but they have plenty of talent, so won't be making it easy for the Tigers to continue their quest for their first premiership since 1980.
When they met in Round 9, it was heartbreak for the Tigers as they led with just over a minute to go when Jeremy Cameron kicked a goal. Richmond controlled the action for most of that game, just as they did in their most recent clash in Round 18 in a wet weather grind. On both occasions, the Tigers employed their defensive pressure to stop the Giants from getting on the run we know they are capable of. They will need to bring more of that on Saturday if they are going to win against a revamped Cameron-less GWS lineup.
I think this will be a far more interesting match-up than Friday night's game. At their best, I believe GWS are a better side. However, they don't often string together multiple weeks of their 'best' let alone multiple quarters of footy. The Tiger forward line continued their high pressure 'lock it in' prowess against Geelong in Week 1 of the finals, having 21 inside 50 tackles to four. If they do the same against the Giants, it's going to be tough for the Giants to find the fast rebound that gets a lot of their movement going. GWS did look better with the smaller forward line last week, so it will be interesting to see if they go this way again, or if someone like Dawson Simpson comes in and they go tall again. Regardless, Josh Kelly and their midfield will have to dominate, all while suppressing the influence of Dusty if they are going to win this one. Can't wait for a great game of footy. We haven't seen too many close games this finals series so far, but this is another one where I think the favourite wins at the margin.
Tip: Richmond by 1-39 Points (Under 39.5) - $2.10 at Ladbrokes (2.5 units)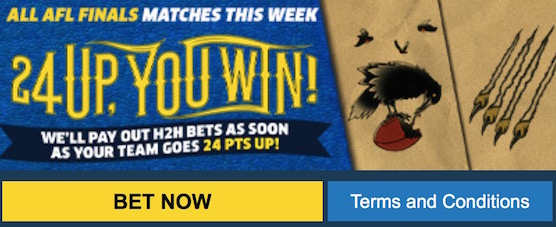 _ _ _
2017 AFL Finals Betting Specials
Bet on the 2017 AFL Finals at one of these great Australian sports betting sites!
Place a 'same game' multi of 3+ legs at Sportsbet and if one leg fails, get bonus bets equal to your stake up to $50! Click the banner below to get involved, just make sure to read terms and conditions before placing any bets.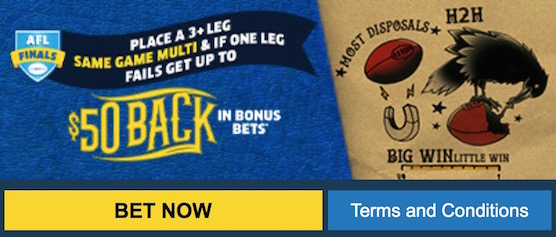 And if you don't have an account, click to sign-up to Sportsbet today and score a bonus up to $501! Just click the banner and make sure to read terms and conditions before creating an account.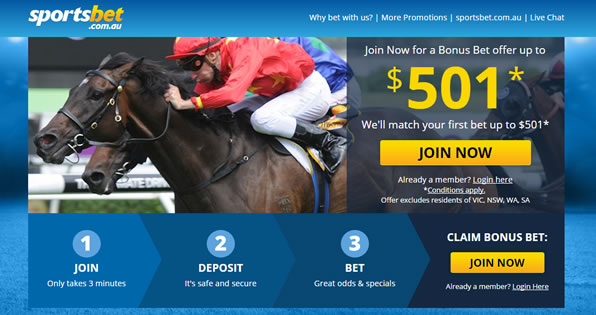 CrownBet have a great 150% Sign-Up Bonus - Deposit $400, receive $600 and have a $1,000 to bet with! - Click to create and account today and score your $600 bonus, for just a $400 deposit! Any deposit up to $400 will be matched at 150% - so you can deposit $100 and receive $150 and so on! Just make sure to read terms and conditions before signing-up, but certainly don't miss out on this one!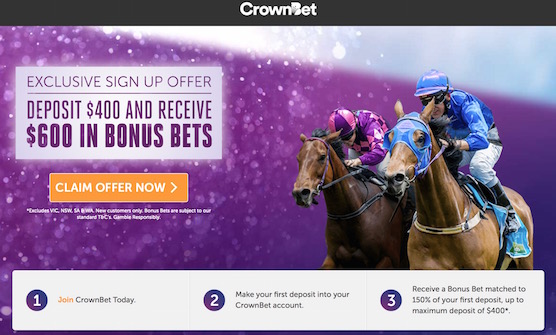 Place any of your 1st Goal Scorer bets on the AFL at Ladbrokes and get boosted odds! Click the banner and get involved!

Ladbrokes are one of the better punting sites in Australia with lots of AFL betting markets, so get an account today and also score a $500 sign-up bonus!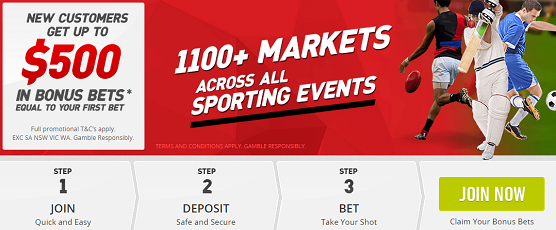 TopBetta offer great markets as well as the penomenon of tournament betting! So click to get an account today and also score a $250 sign-up bonus! You can also learn more about the site on our TopBetta review page.

Spread betting is an exciting format that allows you to sweat every moment of a sporting event! PointsBet offer AFL spread betting, so click to create an account today! Take note, it's not for the faint of heart, so be sure to understand how spread betting works on our PointsBet review page before you try it out!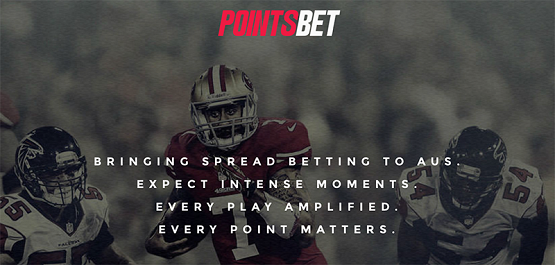 Make sure to read full terms and conditions of any betting promotion before placing any bets - bonuses may not be available to residents of all states.
Always Gamble Responsibly.