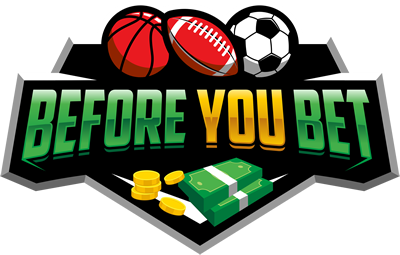 2017 AFL Finals: Week 1 Preview & Betting Tips
Tue, 05/09/2017 - 2:30pm, Drop Punta

The 2017 AFL Finals are set to begin this Thursday, September 5th! Just eight teams remain in the hunt for the premiership and there are four huge games coming up, so don't miss our 2017 AFL Finals Week 1 preview and betting tips!
2017 AFL Finals Week 1 Betting Tips
Adelaide Crows vs GWS Giants (Thursday, September 7th at 7:20 ACST)
2017 Encounter: Adelaide (147) defeated GWS (91)
Last 5: Adelaide 4, GWS 1
The 2017 AFL Finals Series begins on Thursday night in Adelaide as the Crows take on the Giants in a top 4 clash which will see one team sent straight to the prelims.
The Crows head into the finals with the best record in the competition. They finished on top of the ladder with 15 wins - equal with the Cats and Tigers - but more importantly, their scoring power coupled with defensive ability were a class above all others. The Giants, meanwhile, were only a game behind in 4th, but should have probably finished on top if you consider their blistering start to the season.
The Crows come into Thursday night having only won two of their last five games, but will be happy to put that behind them and get onto their home turf to kick off their quest for a first premiership since 1998. The Giants struggled in Round 23 with a 44-point loss to the Cats, but prior to that, were starting to string together some really quality football. They will be aching to create their own legacy with a maiden premiership, while also putting behind that desperate close call in the prelim against the Bulldogs last year.
There has been a lot of chatter around the Giants' selection woes this week - will they play the ageing Stevey J? Can they play ALL the big boys in Patton, Lobb, Cameron and Mumford? - but I think most of this was just media fodder in a quiet week of no footy. Both teams will play the lineups we have been seeing in the late parts of the season and that includes Adelaide fielding Rory Sloane less than two weeks after an Appendix operation.
I really think it's highly likely the winner of this game will make the Grand Final and have a real shot against ANY team they might come against on the last Saturday in September.
I don't think you can write the talented Giants off, but this Adelaide side simply look primed for finals footy. Their forward line was already potent last year, but the missing puzzle piece was perhaps their Danger-less midfield which is now elite thanks to Matt and Brad Crouch taking their games to the next level and easing the pressure on Rory Sloane. If their midfield can break-even (or close to it) against the explosive young Giants, I back in the Adelaide forward line to be too damaging. They take more marks inside 50 than any other team in the competition and their forwards know how to finish it off. Perhaps even more importantly, their defensive stocks are strong enough to hold almost any forward line and we know that GWS have struggled at times with Jeremey Cameron having a much quieter year compared to last season, while their small forwards haven't clicked as much as the Giants would have liked. Cameron is going to need to have a big game if the Giants are any chance, because it's unlikely the Crows will let the even more damaging Toby Greene run rampant. Don't think the Giants get blown out, but very happy to get on the Crows to win their first final of 2017.
Tip: Adelaide by 1-39 Points (Under 39.5) - $2.15 at CrownBet (2.5 units)

Note: Since publishing, Rory Sloane has been ruled out due to his appendix operation. Bet with caution - although I am keeping my pick the same, consider limiting units to 1.5.
Geelong Cats vs Richmond Tigers (Friday, September 8th at 7:50pm AEST)
2017 Encounter: Geelong (80) defeated Richmond (66)
Last 5: Geelong 4, Richmond 1
The footy media has been spruiking this game as the biggest of the year with a crowd of more than 97,000. I'm not sure their will be that many squashed inside the MCG, but regardless this is going to be a massive Friday night of the 2017 AFL Finals.
With the Dustin Martin 'decision' behind Richmond, it's time to start working towards their first premiership since 1980. That's a long time between drinks for one of the biggest and proudest clubs in AFL history. The Cats, meanwhile, have had some more recent success, but continue to set the bar high for their fans and footy pundits alike.
If the Cats are to be believed, Joel Selwood will be returning from a brutal ankle injury in record time. He will be needed in a clash that, in it's simplest form, might end up a battle between Cotchin and Dusty v Selwood and Dangerfield. I find it hard to believe that Joel will be playing too close to 100%, however, which could end up a big disadvantage for the Cats. It will be interesting to see how each Coach tackles these match-ups. Scott Selwood has a solid record against Trent Cotchin over the years, but that's probably the only "clear" tag you will see in this game. Dusty and Danger are simply the two best players in the comp (by a fair length) and it will take more than a 1 v 1 tag to quell their influences.
The last time the two met the Cats won almost entirely on the back of Harry Taylor getting the best of Alex Rance. He kicked four goals at Simonds Stadium and if you compare it to the rest of his year, you can argue he played out of his skin. I can't see Rance having a stinker like that again, while he might be helped by some poor weather anyway which will make it hard for the marking forwards like Taylor and Tom Hawkins. The Cats have a tremendous record against the Tigers, but I think Geelong have perhaps over-acheived in 2017 due to the comfort of Simonds Stadium. No doubt they defeated some quality opponents in Geelong, but on an even-playing field they haven't been as impressive, as often. Giving the edge to the Tigers here. I think if they lose, it will be for classic "above the shoulder" reasons. No doubt will be a tight contest as we have come to expect of finals. Splitting a 2.5-unit bet between the Tigers at the line and a nice price on the Tigers to win at the margin.
Tip: Richmond at the line (+5.5) - $1.92 at Ladbrokes (1.5 units)
+ Richmond by 1-39 Points - $2.60 at CrownBet (1 unit)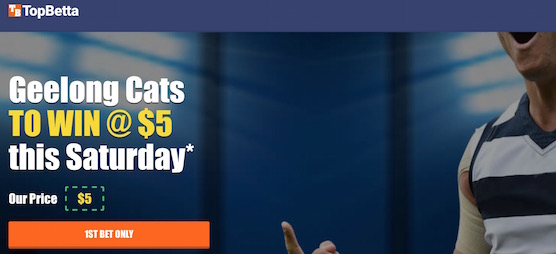 Sydney Swans vs Essendon Bombers (Saturday, September 9th at 4:20pm AEST)
2017 Encounter: Sydney (86) defeated Essendon (85)
Last 5: Sydney 5, Essendon 0
It's been six years since the Bombers have defeated the Swans and they have a tough ask to change that record in a qualifying final at the SCG on Saturday afternoon. Hopefully, however, we will be treated to a blistering contest comparable to the thrilling 1-point Sydney victory like when these two clashed in Round 14.
The Swans started the 2017 AFL season as the favourite to win the flag before a slow start saw no-one giving them a chance. Cut to 23 rounds later and the Swans are back to 2nd favourites to win it all despite not having a double chance by finishing in the Top 4. The Bombers will likely be happy with making the finals at all considering their highly documented turmoil-filled last few years.
There is no doubt if the Bombers are to win they have to get their running game firing. That's how they got out to a 19-point lead late in the 4th quarter the last time they played the Swans. However, with that style of play comes the punishment when it goes wrong and the Swans have enough class and professionalism to stick to their game plan and ensure they don't get flustered if the Bombers get on a run. Key to the Bombers' chances - especially with the way they quickly burst into the forward line - will be Orazio Fantasia getting on the park. Outside of Joe Daniher, he is their most damaging forward. Likewise, Cale Hooker is not a certainty to play, which puts even more pressure on Essendon's goal kicking. Fortunately, at the other end of the ground it sounds like Michael Hurley is 100% which is a big plus considering the Swans' own firepower. Watch for news on Fantasia and Hooker throughout the week.
Most of the footy shows on TV and radio have been trying to build up Essendon's chances in this one, but I honestly think of all the three finals this is very clearly the most one-sided. The Swans should this game. What I don't like the look of, however, is a five-goal plus line. Even in Sydney, the Bombers are a better side than this line suggests - especially in a final. And I guess they get to play with a certain type of freedom that makes them a sneaky chance. I will be having a small play on Essendon at the line, but if you are feeling a little conservative, wait for more news on Hooker and Fantasia, because if they don't play it might be ideal to just skip betting this one.
Tip: Essendon at the line (+32.5) - $1.92 at Sportsbet (1.5 units)

Port Adelaide Power vs West Coast Eagles (Saturday, September 9th at 7:20pm ACST)
2017 Encounters: Eagles (88) vs Port (120); Eagles (97) vs Port (87)
Last 5: Port Adelaide 2, West Coast 3
The first week of the 2017 AFL Finals concludes at Adelaide Oval on Saturday night as the Eagles take on the Power in one of the more interesting match-ups of the weekend.
Considering all the pandemonium around West Coast being 'flat track bullies' it might surprise some to know that the Eagles have won five of their last six games on the road at Adelaide Oval - including a win against Port Adelaide in Round 7. Interestingly, the Power managed a victory out West against the Eagles in their most recent encounter in Round 17.
I don't think it's a stretch to say that the Eagles were lucky to make the finals. Yes, their clutch 29-point win against the Crows in the last round was courageous, but their form throughout the year - especially in Melbourne - was a rollercoaster to say the least. Their midfield is starting to look tired and their reliance on JJ Kennedy up forward is extremely apparent. Apart from Essendon, the Eagles allow more points than any other finalist, while scoring the least of any of the eight. The Power, meanwhile, are the second most potent scorers in the finals (behind the Crows) and have the second stingiest defence (behind Sydney).
West Coast aren't without a chance going into this one and will have plenty of confidence considering their Adelaide Oval record, but it's hard to think they are a chance to win this. Port Adelaide won't be excited to be without key defender Tom Jonas to help stop JJ Kennedy, but they have some quality young defenders to step up and enough weapons in their scoring and midfield arsenals to deal with the Eagles.
Tip: Port Adelaide by 1-39 Points (Under 39.5) - $2.10 at CrownBet (2 units)
_ _ _
2017 AFL Finals Betting Specials
Bet on the 2017 AFL Finals at one of these great Australian sports betting sites!
Place a 'same game' multi of 3+ legs at Sportsbet and if one leg fails, get bonus bets equal to your stake up to $50! Click the banner below to get involved, just make sure to read terms and conditions before placing any bets.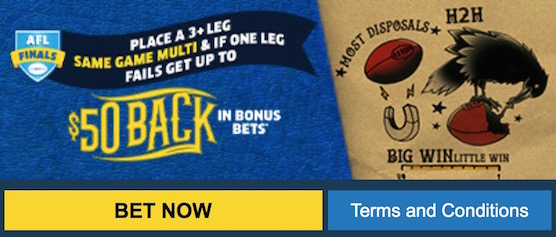 And if you don't have an account, click to sign-up to Sportsbet today and score a bonus up to $501! Just click the banner and make sure to read terms and conditions before creating an account.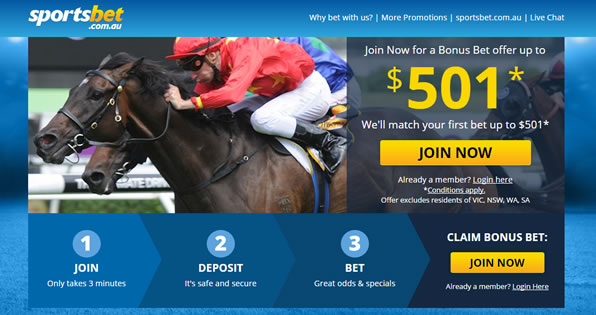 Place any of your 1st Goal Scorer bets on the AFL at Ladbrokes and get boosted odds! Click the banner and get involved!

Ladbrokes are one of the better punting sites in Australia with lots of AFL betting markets, so get an account today and also score a $500 sign-up bonus!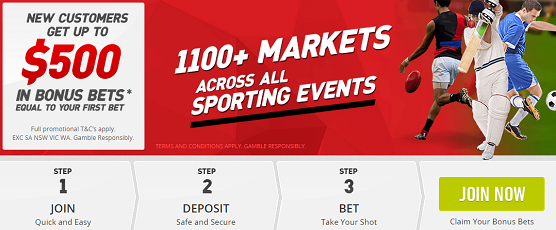 If you like the look of Adelaide and Geelong to both win their Week 1 finals matches, click the banner below and get an enhanced $3 odds up to a max bet of $25!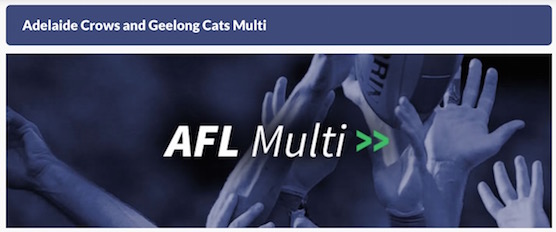 TopBetta offer great markets as well as the penomenon of tournament betting! So click to get an account today and also score a $250 sign-up bonus! You can also learn more about the site on our TopBetta review page.

CrownBet have a great 150% Sign-Up Bonus - Deposit $400, receive $600 and have a $1,000 to bet with! - Click to create and account today and score your $600 bonus, for just a $400 deposit! Any deposit up to $400 will be matched at 150% - so you can deposit $100 and receive $150 and so on! Just make sure to read terms and conditions before signing-up, but certainly don't miss out on this one!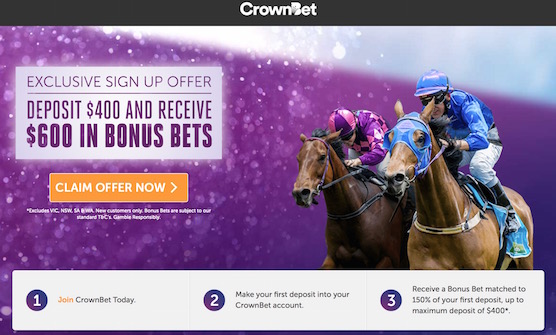 Spread betting is an exciting format that allows you to sweat every moment of a sporting event! PointsBet offer AFL spread betting, so click to create an account today! Take note, it's not for the faint of heart, so be sure to understand how spread betting works on our PointsBet review page before you try it out!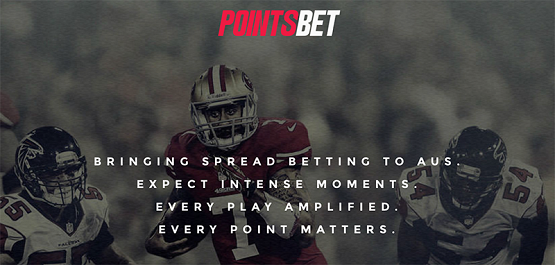 Make sure to read full terms and conditions of any betting promotion before placing any bets - bonuses may not be available to residents of all states.
Always Gamble Responsibly.