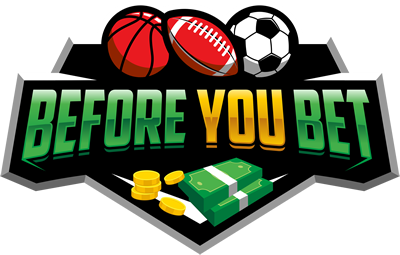 CrownBet Review and Bonus Offers
CrownBet launched in March of 2015 as a rebranding of BetEasy and in 2018, the majority share of the company was acquired by international gambling company 'The Stars Group'. CrownBet is one of the newest and fastest-growing Australian sports betting websites, with new management and former Sportsbet head honcho Matthew Tripp at the helm. CrownBet is set to quickly make waves and plant themselves firmly in the Australian online sports wagering market after the recent announcement of the successful aquisition of William Hill Australia. Find out more about CrownBet, their promotions and bonus offers, and their excellent CrownBet Rewards Program, in our full CrownBet review. 
For a limited time, new CrownBet customers will receive up to $400 Bonus when they deposit $250! But hurry, as this offer won't last long. See below for more details!

CrownBet Review
Those who have maybe never even heard of the site will no doubt be quickly introduced to CrownBet.com.au through their early aggressive marketing or simply because of their high profile CEO in Tripp and the partnership with Crown Resorts - the owners of Crown Casino in Melbourne and Perth, along with many casinos around the world. As we mentioned above, CrownBet have since been bought by 'The Stars Group' so Unfortunately, as of May 1st 2018, CrownBet members will no longer be able to use their reward points at Crown resorts.
In terms of the actual layout and betting interface, CrownBet have certainly improved their user experience in a short time, with more developments and features in the works. CrownBet is quite a simple and effective layout to use and makes it easy enough for punters to place a bet on whatever market they want.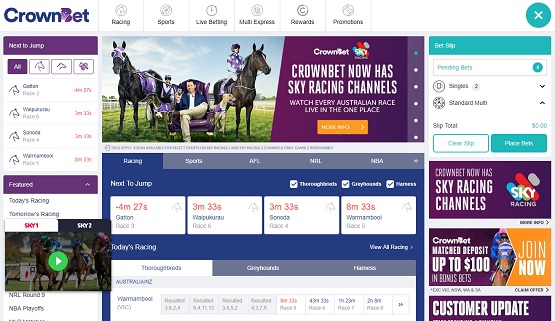 As you can see in the image above, CrownBet utilises a two-menu system, with quick links and account info on the top menu and left menu featuring all the detail information about betting markets. Once the markets on the left are clicked, more info appears in the middle of the screen, while the betting slip is featured on the far right. This is a very familiar layout and makes CrownBet, like the names suggests, quite easy to use.
Like many Australian sports betting sites, CrownBet seem to have plenty of focus on horse racing and related betting, though there is still enough of a focus on general sports betting markets to please everyone. Through their partnership with the AFL, there is also a huge amount of AFL promotions and features including the ability for CrownBet customers to live stream AFL through the 'live vision' product. 
CrownBet have also recently announced a partnership with SkyRacing, meaning that all CrownBet members can now view both Sky Racing channels on their computer, phone or tablet, making it infinately easier for racing punters using CrownBet! CrownBet continues to constantly improve with the addition of the CrownBet Rewards system which sees punters accumulate reward points that can be redeemed for bonus bets at CrownBet, a range of vouchers and sporting event tickets.  
CrownBet – Positives
* Some of the best and biggest promotions around
* Lots of markets, great horse racing offerings
* Unique and easy to navigate betting interface
* Excellent rewards program
* Live streaming of Victorian horse racing
* Live streaming of AFL through CrownBet AFL Live Vision 
* Live Sky Racing Channels
* Instant access to winning with the CrownBet ATM Card
CrownBet – Negatives
* Mobile betting interface a little clunky (app is solid)
* Promos are all bonus bets, not cash back
* CrownBet no longer affiliated with Crown Resorts, meaning rewards points can no longer be used there. 
CrownBet Bonus Offers
If you don't have a CrownBet account, click to sign-up today throught Before You Bet and score a 160% bonus up to $400!  That's right, if you deposit $250, you'll receive the another $400 bonus on top to bet with! Normally, this bonus is only 100%, but for a limited time only, we're able to offer BYB customers an exclusive bonus of up to $400! But hurry, as this offer won't last long!
To take advantage of the full sign-up offer, customers must create a new account using the links here at Before You Bet and make a $250 deposit - you will then receive the $400in bonus bets meaning you have a total of $650 to bet with! Take note any deposit up to $250 will be matched with a 160% bonus! That means you can deposit $100 and receive $160 and so on! Make sure to read terms and conditions at CrownBet before creating an account. 

CrownBet T&Cs apply. New Customers Only. Excludes residents of VIC, NSW, WA and SA. 18+.
Also make sure you click here and check out the full terms and conditions on the CrownBet website if any of the details of the CrownBet bonus are unclear. This is a great chance for new punters to start a handy betting bankroll, so don't miss out! Take note that the offer may not be available in all states, so be sure to check out the terms and conditions on CrownBet. 
CrownBet Video Review
Information in video was correct at time of publishing. 
Editor's note: Take care when signing up to new sports betting agencies. Be sure to read all terms and conditions of any bonus offers, deposit/withdrawal requirements and identification verification on each respective site, as some of the information on this page may be outdated. Before You Bet will do their best to keep this page up to date, but takes no responsibility for any information on this page being incorrect. 
Always remember to Gamble Responsibly.