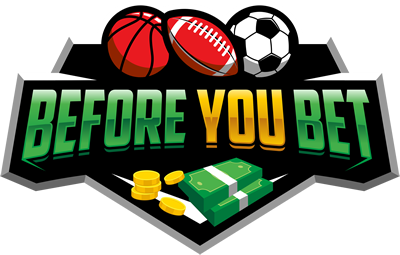 Betfair Australia Review and Bonus Offers
Betfair is one of the largest and oldest brands in online sports betting. They first launched in the UK back in 2000 and Betfair Australia received their first licence to operate in Australia back in 2005. Unlike most sports betting sites, Betfair is a sports betting exchange as opposed to a bookmaker, allowing players to set their own odds and consequently back and lay bets. This often means that Betfair Australia has some of the best sports betting odds in the country. Find out more about how their exchange works and Betfair Australia bonuses with our full Betfair Australia review.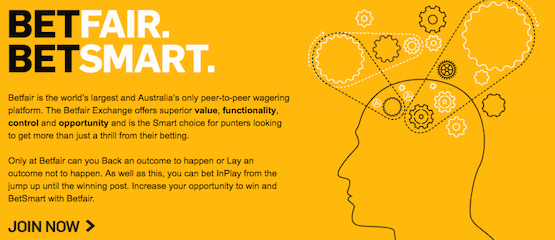 BETFAIR AUSTRALIA REVIEW
The first question new punters will ask about Betfair Australia is "what is a betting exchange?" To put it simply, the regular Australian sports betting websites that most are familiar with are called 'bookmakers'. They set the odds, you place a bet and go from there. On Betfair, you are the bookmaker yourself.
Basically, punters are betting against each other and Betfair charges a small commission to the winner of the bet. This style of online sports betting, known as an 'exchange', offers punters two options – to back and/or lay. This can be thought of as either being the bookmaker yourself (lay), or betting against a bookmaker (back), except, in this unique situation, the bookmaker is just another Betfair punter like yourself.
The great thing about a betting exchange like Betfair Australia is that they cater for advanced / professional punters and also cater to regular punters who just want to place bets like they would on a normal sports betting website. Sports betting exchanges are also great because they often feature better odds than sports books. This is because the market price of bets are set by the betting public and not some greedy website looking to take a high sports betting "vig".
Before we talk more about the general features of Betfair, you can find out more about how betting exchanges work in our article entitled "How to back and lay on Betfair".  
Betfair went through an aesthetic redesign in 2014 and made the site perhaps more user friendly to the general betting audience who may not understand the intricacies of sports betting exchanges. Luckily, for those advanced Betfair users who preferred the old site layout, there is a link at the bottom of the home page which takes you to the old Betfair.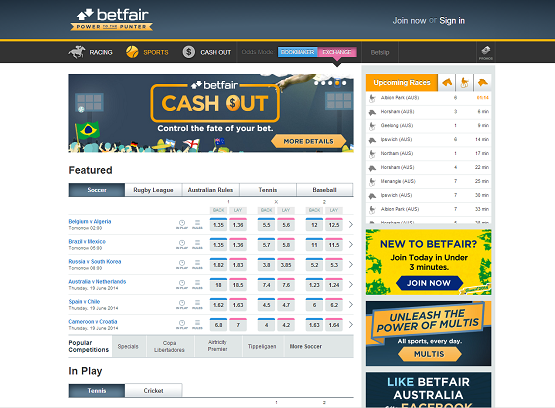 In short, Betfair Australia often has the best sports betting / horse racing odds in the country. Unfortunately, however, there may not be a market offered on all events or there may not be enough "liquidity" in certain markets for you to bet as much as you would like. This is just a fact of betting exchanges – if people aren't "laying" bets, then you won't be able to back those bets.
Quite often what you will find is that markets open up for betting closer to the event i.e you might not be able to bet on a certain AFL game on a Wednesday, but the night before the game or the day of, the markets will have plenty of liquidity. A simple rule is that the more popular the sport / event, the more likely there will be lots of juicy odds for you to back or lay. To ensure that there is a market in every event at all hours, Betair are currently in the works of launching a bookmaker to coincide with their exchange. This is great news for even those who prefer the exchange betting markets, as they will now be able to simply compare the odds of the two and take the juiciest price.
It is arguably horse racing where Betfair Australia excels. Ask any professional punter where they bet on horses and they will invariably answer Betfair. On horse racing, Betfair already offers their exchange and a bookmaker (tote) option. The odds are often the best on the exchange and you can get a better idea of what the market is thinking and can wait for the best odds before betting. Like many other sports betting websites, Betfair also offers a "best of" promotion on horse racing odds. This applies when betting on the bookmaker and sees punters get the best payout between the major TAB markets (S-TAB, NSW, TATTS) and the Betfair starting price.
Betfair offers world class customer service, plenty of options for live betting and some of the smoothest and best financial transactions in the business. There are lots of deposit and withdrawal options on Betfair Australia and the process couldn't be easier.
Betfair Australia – Positives
*Betting exchange often has best odds in Australia
*Betting exchange great for advanced and beginner punters
*Exchange and bookmaker offered on Horse racing
*Plans to offer combination of exchange and bookmaker for sports
*Great customer service
*Lots of withdrawal / deposit options
Betfair Australia – Negatives
*Not all markets have enough liquidity on exchange
*Some betting markets won't even be offered
*Sometimes have to wait until closer to event for exchange to have liquidity
*No sign up bonus
Editor's note: Take care when signing up to new sports betting agencies. Be sure to read all terms and conditions of any bonus offers, deposit/withdrawal requirements and identification verification on each respective site, as some of the information on this page may be outdated. Before You Bet will do their best to keep this page up to date, but takes no responsibility for any information on this page being incorrect. 
Always remember to Gamble Responsibly.