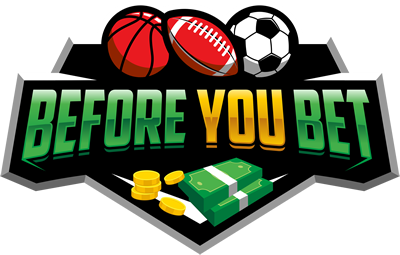 SportChamps Australia Review and Bonus Offers
SportChamps are one of the newest and most exciting fantasy betting agencies to hit Australia. Launched in 2016, SportChamps adds fuel to the growing fire that is tournament-style fantasy betting that was lit by the likes of TopBetta. Unlike TopBetta, however, SportChamps specialises in the tournaments, and doesn't offer any regular cash betting markets for sports or racing. Tournament-style fantasy betting is a fun way to bet against other punters instead of the bookies and a great way to limit your losses so we definitely recommend giving it a go!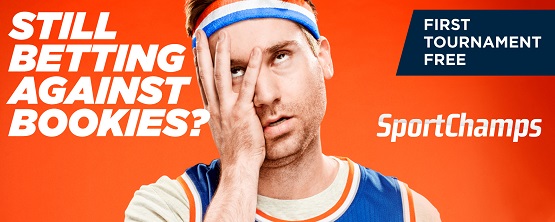 SportChamps Australia
When you first arrive at SportChamps, you'll be directed to a front page that briefly explains how tournament betting works and what SportChamps are going for. Their motto is "Bet against punters, not bloody bookies" which is a great slogan and exemplifies why tournament style betting is such a great idea.
From the home page, you can either head straight to the lobby and check out the types of tournaments they have or you can go ahead and click the 'Sign Up' link straight away. Signing up is as easy as any other betting agency - they'll just prompt you for your basic details and if you want you can deposit for a 100% deposit match bonus up to $50. Verification is also very simple and just requires you to send an email with your card details to the verification centre.
After you've created your account, you're free to head to the lobby and peruse the wide range of tournament options they have. For such a new company, SportChamps have a great range of sports on their menu including AFL, NBA, Soccer, NRL, Super Rugby, Horse Racing and more. We also expect as SportChamps continues to grow, we will see more obscure sports come into the fray quite quickly.
The entry fees for tournaments cater mostly to beginners and new tournament punters. Tournaments range from free-to-enter up to $100 entry. This means that the prize pools aren't yet attractive enough for professional punters, but if you're just starting out then SportChamps is perfect for you to learn the ropes and build a bankroll.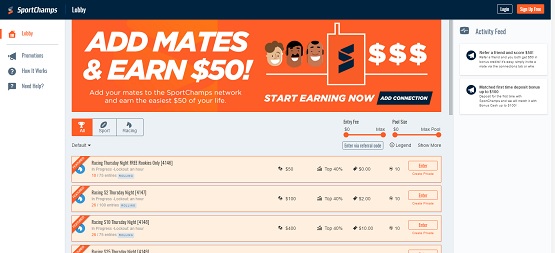 One of the great things about tournament-style fantasy betting is the ability to have a fun experience betting over an extended period of time, but limit your losses to whatever amount you choose! If you enter a $50 tournament that spans the weekend, you know you can only lose $50 for the weekend but you can still have a great time and sweat plenty of games betting with your chips. The software is very smooth and easy to use, and their mobile app is one of the better sports betting apps we've reviewed.
Another great aspect is that you have the ability to bet against your mates and sledge them out using the chat box. There's nothing better than jagging that $10 underdog to beat your best mate on the last event of a tournament! And at the moment, if you sign up a friend, SportChamps will credit you with $50 in bonus money!
There are a few drawbacks to SportChamps, but we expect them to improve as the company grows. At the moment, SportsChamps tournaments pay out the top 40% of the field, so you don't have the big tournament prize money that some of the other sites do. Also, deposit and withdrawal options are limited.
SportChamps Australia Positives:
* Daily racing and sports tournaments
* High percentage payout
* Excellent software and mobile app
* $50 sign up bonus
* Great customer service
SportChamps Australia Negatives:
* Smaller prize pools
* Limited deposit/withdrawal methods
SIGN UP BONUS
SportChamps offer new customers a great sign up bonus when they deposit up to $50. If you deposit the full amount, you'll receive a very nice $50 bonus bet which can be used to pay the rake of whichever tournaments you like. They'll also throw $50 your way if you refer a friend!

Not only that, SportChamps will also offer new customers free entry to five tournaments! Any money won from the tournaments will be distributed as bonus cash that punters can use to enter more tournaments for real money!

Terms and Conditions: Must deposit at least $20. Bonus bets are spent to subsidise entries into real money competitions and are not withdrawable as cash. Depositor must be a first time depositor on SportChamps and this promotion is only redeemable on the first deposit you make.
information in above video correct at time of recording.
Always read the full terms and conditions when signing up with new betting agencies as the information on this page could be out of date. We will always attempt to keep the page update but take no responsibility for any incorrect information.
Always Gamble Responsibly