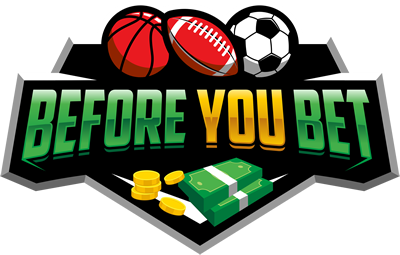 PlayON Daily Fantasy Sports Review
Fans of some of the Australian daily fantasy sports websites will be pleased to know that one of the worlds most expansive DFS sites, PlayON, is now operating on our shores! Boasting a customer base spanning over 100 countries, PlayON offers Australian daily fantasy users competitions ranging from free to $100 entry fee in a wide range of sports! See our full review for PlayON below.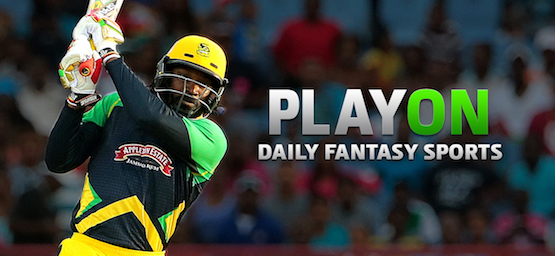 Founded in England 2012, PlayON was originally limited to British customers but has since expanded globally and is now one of the bigger daily fantasy sites in the world. Having expanded to Australia, PlayON offer some great tournaments in Aussie sports like the AFL, NRL and BBL but their real appeal is to lovers of overseas sports! In 2018, PlayON expanded their offerings, announcing partnerships with both the Super Rugby League and in a massive coup, a exclusive partnership with the Formula 1! 
PlayON specialise in overseas and especially European sports, offering a massive range of Soccer and Golf tournaments. They also boast American Football and NBA tournaments with some massive prize pools as well.
When you log onto the PlayON website, you'll notice straight away that the simplicity of the website that is the key feature. PlayON make it extremely easy to navigate their expansive lobby so you can find the tournament that suits you best. The lobby acts as the homepage, with options to sign up or log in at the top right corner.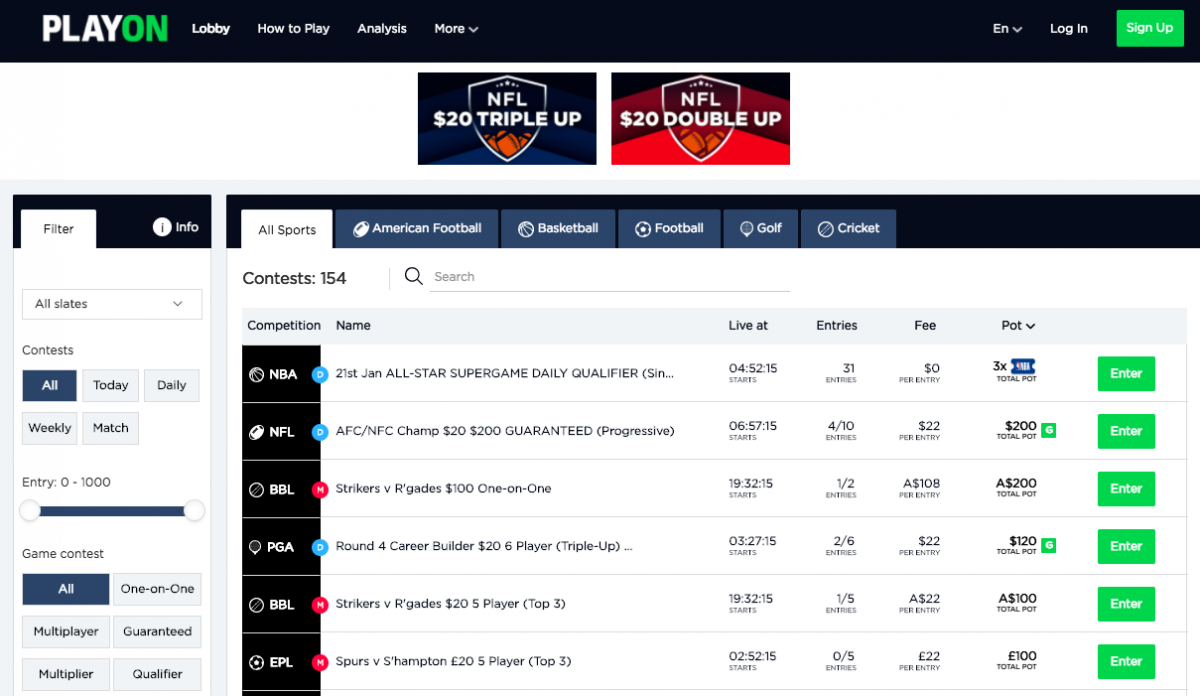 A great feature of PlayON is the 'pick a team' option, which can be found on the home page. Pick a team allows you to select the sport of your choice and select your squad, then PlayON will automatically generate a list of tournaments that you can join with your selected players.
If you've every played any daily fantasy sports in Australia, you'll be familiar with the scoring systems for the majority of the sports featured at PlayON. There are some differences, but the points systems are readily available, so make sure you study up before entering a tournament.
For all of you who are new to daily fantasy, PlayON offer a great 'how to play' feature that offers tips and strategy on picking teams, entering games, point scoring and and viewing your entered teams and competitions live. 
PlayON Super Contests in 2018
In 2018, PlayON committed to offering bigger prize pools in both the NRL and the AFL, which is exciting news to Aussie fans. Best of all, they announced they will be running what they are calling 'Super Contests' in a range of different sports. These Super Contests will boast massive prize pools and should generally have great overlay! A list of the Super Contests and their info is below!
- NBA (3rd of April) $20,000
- Formula 1 (26th of November) $20,000
- Tennis (Wimbledon, 2nd of July) $5,000
- NRL (25th of August) $25,000
- Super Rugby (6th of July) $10,000
- EPL (24th of April) $5,000
- Golf (US Open, 15th of June) $10,000
- AFL (18th of August) $100,000

New players to PlayON will receive a first deposit bonus offer of a free $20 entry into a tournament of your choosing. To claim this offer, just click here to join PlayON, create an account and deposit at least $20. Then on the PlayON website, enter the bonus code DFSR into the chat box on the bottom right-hand side of the screen. You will then receive your free entry shortly after. The only terms and conditions associated with this offer is that you must enter tournaments to the value of your deposit and free entry before you can withdraw.

Editor's note: Take care when signing up to new agencies. Be sure to read all terms and conditions of any bonus offers, deposit/withdrawal requirements and identification verification on each respective site, as some of the information on this page may be outdated. Before You Bet will do their best to keep this page up to date, but takes no responsibility for any information on this page being incorrect. 
Always remember to Gamble Responsibly.