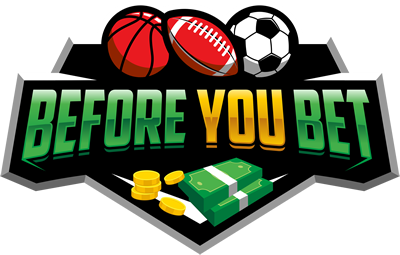 Luxbet Review and Bonus Offers
Launched in 2008, Luxbet is a subsidiary of Australian gaming and wagering juggernaut Tabcorb Holdings (TAB). This sort of affiliation immediately gives Luxbet an air of trust with the average punter. With their parent company having so much experience in the racing and sports wagering industry it is no surprise that Luxbet is one of the best Australian online sports betting websites. Find out more about Luxbet bonus bets with our full Luxbet review. 
LUXBET REVIEW
Many Australian online sports betting sites have similar layouts, but Luxbet.com is strikingly unique. The different sports and markets are displayed in an easy-to-digest menu at the top of the page and when a sport/market is clicked, another box drops down and all the betting options are displayed. If you then wish to go further and place a bet, a new page will open with more detailed options.
Considering its link to Tabcorp, it is not too surprising that the homepage also features handy 'next to jump' markets for all thoroughbred, harness and greyhound racing bets. It is also the racing markets in which Luxbet excels and tends to focus their website on. Luxbet even has a feature called 'ClubXtra' which allowed owners and trainers in the horse racing industry a 12% bonus if they place winning bets on their own horses.
Luxbet offers some of the best racing odds in the country, courtesy of their 'Best of the Best', 'Lux+5%' 'Top Fluc' and 'LuxDiv' options. Arguably the best option of these is Luxdiv, which pays out the best official on course starting price or the best tote odds, whichever is higher.
While Luxbet may have a focus on horse racing, they do still offer a very competitive selection of sports betting markets, including extensive coverage of Soccer betting. As you would expect from an Australian online sports betting website, there are also a huge amount of options for AFL betting and NRL betting.
Luxbet also offer plenty of live betting options for punters, though like all agencies in the country, this is only available over the phone and not on the internet due to Australian gaming regulations. Luxbet live betting also seems to be growing every month, with more and more betting options being offered.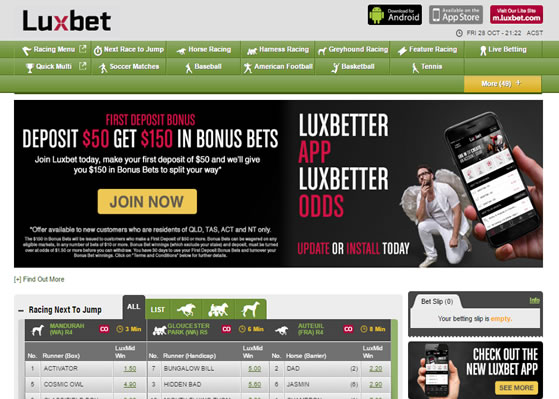 One selling point for Luxbet is their great sign-up bonus and ongoing betting promotions. Their current bonus is a Deposit $50, Receive $150 Bonus which is a tremendous boost to the bankroll for new punters. That's a whopping 300% matching bonus and a great way to kick-start your bankroll. The bonuses and promotions are a strong reason alone for Australian sports betting enthusiasts to at least give Luxbet a try.
Luxbet – Positives
* Some of the best horse racing, greyhound and harness betting markets
* Perfect website layout for racing punters
* Lots of ongoing betting bonuses / promotions
* Offer enhanced bonuses from time to time
* Payout options for racing markets are second to none
* Great value Deposit $50, Receive $150 Bonus through Before You Bet
Luxbet – Negatives
* Not as many live betting options as some sites
* Betting markets / options not as extensive as some sites
LUXBET BONUS OFFERS
Luxbet offers a great welcome bonus for punters in Australia - a 300% / $150 Deposit Bonus!
This bonus offer is tremendous value - especially for new punters looking for a boost to their bankroll. If you're starting out, then Luxbet is a great choice as you'll get huge value on your $50 first deposit, and you can use the $150 Bonus in way you choose - as one $150 bet, or in any increments starting from $10! 
Before withdrawal of any bonus amount, all bonuses and any winnings accrued from the bonus must be turned over at least once and this must be accomplished within 30 days. Only wagers of odds of at least $1.50 will be counted against the turnover amount and no bonus bets can be used on exotic and multi bets. 
Be sure to check out the full terms and conditions on the Luxbet website before making any deposits!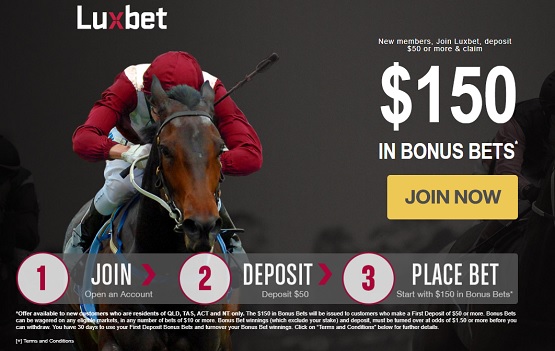 LUXBET VIDEO REVIEW
information in above video correct at time of recording.
Editor's note: Take care when signing up to new sports betting agencies. Be sure to read all terms and conditions of any bonus offers, deposit/withdrawal requirements and identification verification on each respective site, as some of the information on this page may be outdated. Before You Bet will do their best to keep this page up to date, but takes no responsibility for any information on this page being incorrect.
Always remember to Gamble Responsibly.