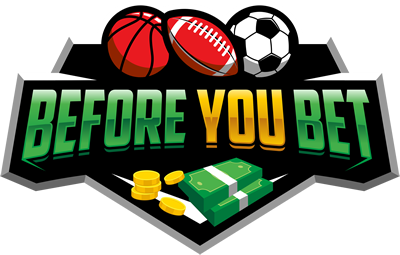 2018 Australian Open: Men's Betting Preview
Sat, 13/01/2018 - 1:11am, SmitsTips

The 2018 Australian Open begins on Monday, the 15th of January and concludes with the men's final on the 29th. Today we preview the men's side of the draw in detail, and give some tips as to who we think will come away with the silverware
2018 Australian Open – Men's Betting Preview
2017 will go down as one of the most memorable years in the open era for men's tennis for many reasons. The main reason being the GOAT (AKA Roger Federer) proving all the haters and naysayers wrong by claiming his first Grand Slam title since 2012, by beating his rival Rafael Nadal in the Australian Open final. However, he wasn't done winning just yet, as he also managed to claim his 2nd Grand Slam title in 2017 when he was victorious at Wimbledon. Federer is coming into the new season with renewed confidence and the favourite to take home the silverware ($3).
Federer's long-time rival, Rafael Nadal, is also coming off a year to remember. He too was able to win his first Grand Slam title in 3 years when he took out the French Open, and he too backed it up by winning a second Grand Slam in 2017, the US Open. Nadal comes into this tournament with the No.1 world ranking and a generous run to the quarter finals. Rafa comes in with short odds ($5) but is always a chance to win.
** CHASE THE ACE BACK FOR THE 2017 AUSTRALIAN OPEN! CLICK FOR DETAILS!**

Novak Djokovic is on the way back from a shoulder injury that side-lined him for the entire back half of 2017. It was no surprise when Djokovic revealed he had been suffering from an ongoing injury, due to his uncharacteristically early exits at both the Australian Open and Wimbledon. He looked a shell of the dominant player he was during his dominant 2015-16 campaigns, where he claimed 5 out of 8 Grand Slam titles. He hasn't played much tennis lately, but we still feel he deserves to be shorter odds than he is ($8).
With Andy Murray out of the Open this year there's an opening for a young-gun to make a run deep into the second week of the tournament. If this is to occur, then you can't go past Alexander Zverev Jr. and Nick Kyrgios. Zverev is coming off a terrific 2017, where he won an astonishing 5 ATP titles, placing him in third behind only Federer and Nadal. He comes into this tournament at just 20 years of age, No.4 world ranking and $17 odds to claim the title.
Love him or hate him, Kyrgios is a budding superstar of men's tennis and is a real chance of making a deep run in this year's Australian Open. He recently claimed his first ATP title after defeating Ryan Harrison in straight sets in the final of the Brisbane International. Kyrgios oozes natural talent and comes into the Open with $15 odds and a desire to perform in front of packed home crowds.
2017 Australian Open – Men's Winner Prediction
We're well aware that Djokovic is coming off a long-term injury that forced him out of action for a lot of 2017. However, he is now back to full fitness and loves playing in the Australian Open. He has a relatively easy Quarter and is a major chance of claiming the silverware.
TIP: Novak Djokovic to win - $8 at Sportsbet
*** Click to bet on Djokovic to win the 2017 Australian Open - $8 ***
2017 Australian Open – Men's Value Play
If there's to be a surprise winner in this year's Open then it may just be Australia's Nick Kyrgios. He loves the big stage and looks to have matured a lot in his 2017 campaign. Is it possible he can become Australia's first Grand Slam winner since Lleyton Hewitt in 2002? We think he's a real sniff.
Value Play: Nick Kyrgios to win - $15 at Ladbrokes
*** Click to bet on Kyrgios to win the 2017 Australian Open - $15 ***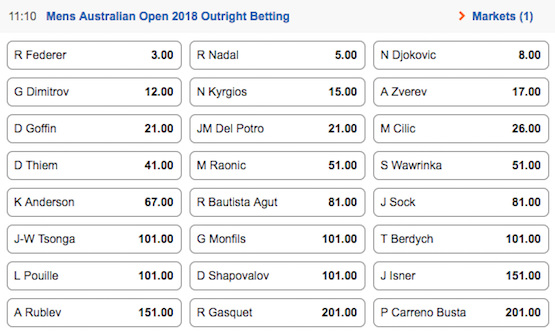 _ _ _
Where to bet in Australia
Here are some great Australian sports betting sites where you can bet on a range of sports and racing markets!
SportsBet are Australia's largest sports betting site. They offer an enormous range of markets, industry-leading promotions and a fantastic first deposit bonus of up to $501 for new customers. They also have a brilliant promotion for the Australian Open tennis this January - if your head-to-head singles match bet goes 2 sets in front, you get paid out as a winner straight away! Click here to join Sportsbet today!

CrownBet are another excellent Australian sportsbook with a huge range of sports betting markets and promotions. For a limited time only, Before You Bet followers can enjoy an exclusive first deposit bonus of up to $500! This offer is for new customers only and is only available through the links/banners on this site. Click here to join CrownBet today!

One of Australia's emerging sportsbooks, TopBetta offer a great range of sports betting markets and promotions. The real point of difference for Topbetta is their fantasy betting tournaments where you can compete against other punters for a share of the tournament prize pool. New players can also enjoy a great $250 first deposit bonus to use on racing markets.

Palmerbet are an Australian-owned sportsbook that are growing in popularity. They present a solid range of sports betting markets and if you sign up through Before You Bet today you can score a massive $500 first deposit sign up bonus!

Make sure to read full terms and conditions of any betting promotion before placing any bets - bonuses may not be available to residents of all states.
Always Gamble Responsibly.