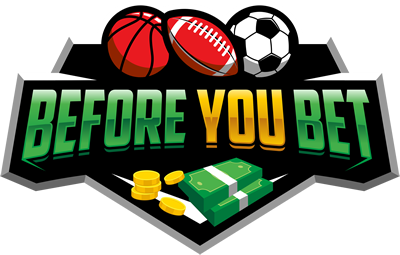 2017 World Surf League: Billabong Pipeline Masters Betting Tips
Tue, 05/12/2017 - 5:01pm, CrossRoads

The wait is finally over, as we have officially reached the last WSL contest of the 2017 year. The Billabong Pipeline Masters in Hawaii on the island of Oahu begins this coming week with things looking to kick off on the 9th December (AEDT) and running through to the 21st of December.
After the Rip Curl Pro in Portugal finished over a month ago, you have to love the build up over the extended break as surfers prepare themselves for the all mighty grandfather of surfing The Pipeline Masters. The contest has been running for the past forty plus years and even now it still reigns high above any contest on the world circuit.
If we rewind back to the 2016 WSL Pipe Masters, we already had a clear winner with John John Florence securing the title prior to the Masters with a win in Portugal. Same story this year with Florence leading the pack but he will need his best performance to make sure Gabriel Medina doesn't ruin his chances for another world title. Ex world champion Gabriel Medina is the hottest surfer on tour at the moment. Winner of the last two contests, he comes into this event hoping to win his second title after coming from eighth position into second behind Florence. A season that seemed over for Medina, he has come roaring back into form and if he was to claim Pipeline, it would be one of the greatest titles anyone has won. Medina is currently 3,000 points behind Florence, so he will have to put in performance like he has in France and Portugal to take out the young Hawaiian in his own backyard.
You may think that the title is between Florence and Medina, but if you take a look at the rankings Jordy Smith and Julian Wilson are still an outside contender. Wilson has performed well late this year with a victory in Tahiti and a runners up in Portugal against Medina. Out of the four main contenders at Pipeline, Wilson is the only one to have won the contest. Smith on the other hand could had almost secured the title this year but a inconsistent second half to the year has almost ruined his chances. Two round three loses in France and Portugal have really made it hard for him to bounce back.
It's hard not to mention his name at this time of year with veteran Kelly Slater once again is looking to make some noise in Hawaii as he tries to clean up a very up and down season. We all know what greatness he has achieved at Pipe in the past, so personally I wouldn't completely delete Slaters name off the list this year.
Having confidence heading into an event can be a huge part in surfing or any sport. Californian Conner Coffin should be full of it to, after taking out the Vans World Cup at sunset just days ago. The youngster earned his spot on the WSL tour in 2015 and is well and truly still in the up and coming stage. His victory at Sunset could be a huge part in his career and has come at good stage heading into the Pipe Masters.
Make sure you tune into all the action this coming weekend as we finish the WSL year off at Pipeline in Hawaii.
TIP: Julian Wilson to win - $10 at CrownBet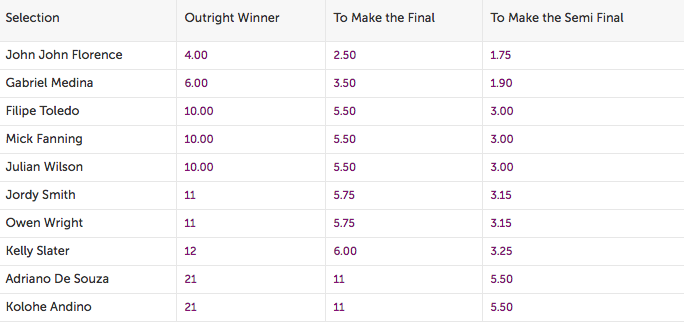 _ _ _
CrownBet also have a great 100% - Click to create and account today and score up to $100 in Bonus Bets! Just make sure to read terms and conditions before signing-up, but certainly don't miss out on this one!

Make sure to read terms and conditions of any promotions before placing a bet - some specials may not be available in all states!
Take note: Any of the tips in this article are simply the author's opinion, so bet at your own risk and always gamble responsibly. Also be sure to check out the Before You Bet Twitter Page for all our thoughts in the lead up to bets! Happy punting!